The situation is in line with the US and regional stock markets when investors are concerned about the issue of bond interest rates rising again.
VN-Index closed the last deal of the week in red at 1,194 points, about 10 points from the historical peak. This can still be considered as a success because many securities companies previously predicted that the index would be difficult to break through because of the consecutive expiration of derivatives and the closing of the ETF portfolio.
According to experts of Rong Viet Securities Company (VDSC), this decrease is only a small correction sign and the general trend has still remained. Market liquidity maintained at a high level, with a session above 17,000 billion dong and a relatively narrow price fluctuation range, which is a positive signal. Many stocks are still in the process of strong growth, accumulating new price bases higher than previous peaks, so investors can expect positive developments next week.
On the same page, the analysis team of Mirae Asset Securities Vietnam said that the fact that the index closed above the level of 1,200 points is a milestone confirming the success of conquering this level. The short-term trend is therefore still positive and the uptrend may continue next week.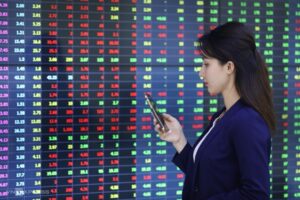 With a more cautious view, experts of MB Securities Company and Bao Viet Securities Company (BVSC) forecast that fluctuating sessions will appear denser in the coming week. The market may bear more correcting pressure on the first day of the week before recovering gradually thanks to bottom-fishing demand.
"VN-Index may continue to test the support area of ​​1,185- 1,190 points in the next session before showing a rebounding reaction," the report of BVSC wrote.
Cash flow is returning to large-cap stocks with good fundamentals, especially banks, so this could be an important pillar for the market to go up in this period. Investors still expect the stock market to be an effective investment channel and attract cash flow in the context of low deposit interest rates. The gaining momentum of world stocks, the first-quarter profit information and the optimistic business plan announced before the general meeting of shareholders are also short-term supportive factors.
Most securities companies recommend investors to continue holding leading stocks, newly bought stocks around 1,000-1,080 points and can increase the proportion when this threshold is clearly broken. Meanwhile, BVSC recommends a reasonable holding ratio of 55-70% and advises investors to only focus on buying blue-chips that are accumulating prices when the market corrects.