3 Investment Styles: Which fits you?
1. FOMO (Fear of missing out)
These investors often they listen to friends and relatives before making any decisions. They heard that the fund gives high profits, so they're ready to put down their money. In fact, investors should have a glance at the Fund's investment portfolio. If the Fund only invests in stocks, the level of risk will be high. Investors should keep in mind that "high returns will always come with high risks" for not blaming on others.
2. Long/ Short strategy:
A method that investors in Vietnam are telling each other that taking profits is never wrong and cutting losses before the account burns out. They use the method of taking profits when reaching 10%. And vice versa, never let your portfolio lose less than 10%. This is probably a reasonable way for many people, but it is not suitable for those who want high returns or invest for the long term.
3. Hold to die:
Honestly, Funds should take a "special care" to this kind of investors. Since they are patient, and able to hold Fund Certificates year after year. Instead of caring about market fluctuations, they invest in funds as a "long-term savings" with a faith that this portfolio will grow eventually.
Still funds investment, in Vietnam, there are many investors with different investment methods.
How to invest in open-ended funds effectively and smartly?
No need to be in a hurry
In fact, fund certificates are a type of financial product that should be invested for a long time, not for surfing. Investors need to be patient so that the Fund has time to optimize its capital. If you are too hasty, you will not only not get the profit you deserve, but you will also incur transaction fees. According to experts, the long enough time to keep fund certificates is about 1 year.
Take advantage of low-price to buy Fund Certificates
The time of the market going down is actually a good opportunity to buy fund Certificates. Then the NAV price is low, investors could get fun certificates at a good price although investors can still buy Fund Certificates at anytime. However, as aforementioned, if it's kept for a long time, it will generate stable profits.
In addition, investors can base on the VN-Index to assess "financial health" of the market; thereby, choosing an appropriate funds buying point (see picture below). In short term, the market can go up and down (blue line), but in the long term, it tends to increase (red). Therefore, investors should do the following three main actions:
(1) Buy when the market goes down
(2) Hold long enough to reach the profit target
(3) Take Profit
Review VN-Index indices to make the right decision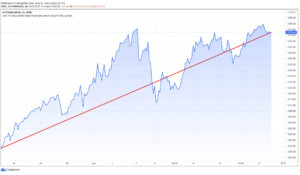 Finally, investors should learn carefully and "try before trust" in any fund. For peace of mind, it's better to choose experienced and reputable funds with high effective investment results in the market.